What Is 340B?
The federal 340B drug pricing program supports health care providers that serve a substantial percentage of people living with low incomes and in rural communities. Eligible nonprofit hospitals, community health centers, and public health clinics purchase outpatient pharmaceuticals from drug companies at a discount and invest those savings into more care for disadvantaged patients. This enables participating providers to offer more comprehensive services for communities and reach more patients in need.
Drug company discounts – not American taxpayers – cover the cost of this care.
What Drug Companies Are Cutting 340B?
Since 2020, a growing number of drug companies1 have been unilaterally restricting access to 340B discounts for hospitals that partner with community and specialty pharmacies to dispense drugs to their patients. These actions dramatically raise costs for hospitals, leaving fewer resources to provide critical care for patients and communities. They make it more difficult for patients, especially those living in rural areas, to obtain their prescription medications. And they come at a time when hospitals are facing unprecedented challenges from the COVID-19 pandemic and inflation in the costs of providing care.
Both the Trump and Biden administrations have acted to stop these drug companies, informing them that these actions are unlawful and contrary to 340B's purpose. But drug manufacturers have used legal maneuvers to block government enforcement of the law.
---
1 As of Aug. 1, 2023, these companies are: AbbVie, Amgen, Astellas, AstraZeneca, Bausch Health, Bayer, Biogen, Boehringer Ingelheim, Bristol Myers Squibb, Eli Lilly, EMD Serono, Exelixis, Gilead, GlaxoSmithKline, Johnson & Johnson, Merck, Novartis, Novo Nordisk, Organon, Pfizer, Sanofi, Teva, UCB, and United Therapeutics.
What Are the Consequences?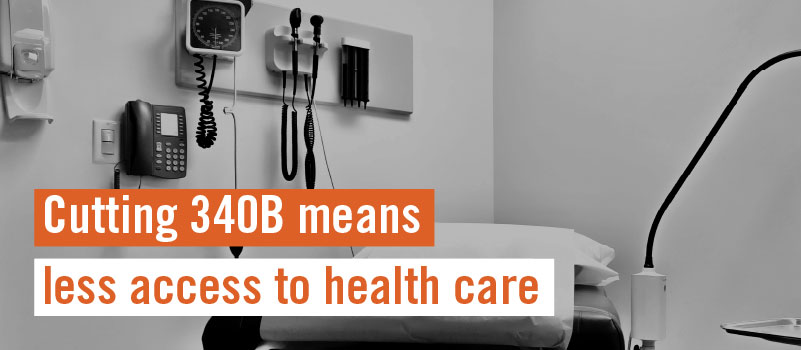 Cutting 340B Means Less Access to Health Care – Drug companies are cutting hospitals' access to 340B savings that offset the costs of a wide range of vital health care services for their communities. These include free or heavily discounted prescription drugs, trauma care, care for people with HIV/AIDS, treatment for opioid and other substance use disorders, and much more. 340B savings also support services that most insurers do not cover, such as transportation, translation services, and medication management programs to help patients follow their treatment plans and stay healthy.
Cutting 340B Means Less Healthy Communities – Due to drug company actions, 340B hospitals are reporting patients experiencing delayed access to needed drugs, financial hardships, and poorer health outcomes from losing access to care and services 340B savings make possible. These include patients living with diabetes whose health has suffered from treatment changes after losing access to affordable insulin. 340B savings also support innovative prevention and education programs for people living with chronic conditions.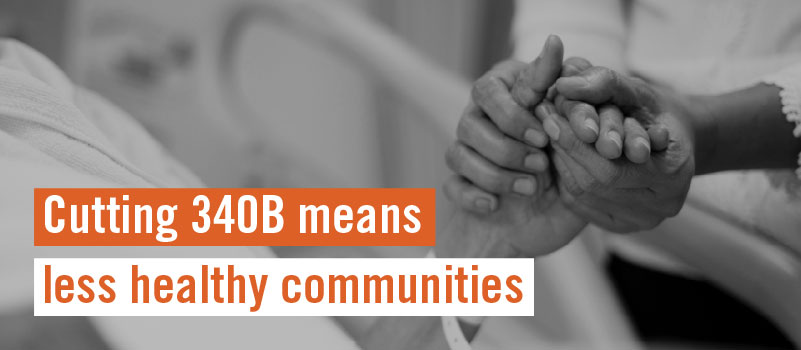 Cutting 340B Means More Rural Hospital Closures – More than 1,200 rural hospitals participate in 340B, and their savings can make the difference between staying open and shutting their doors. Many of these hospitals operate on razor-thin margins, and one in three warn that they might need to close if more drug companies impose cuts to 340B and drugmakers refuse to end these unlawful practices.
How Can 340B Be Protected?
The Department of Health and Human Services (HHS) must take all available enforcement actions against these unlawful drug company cuts to 340B savings. This includes imposing penalties on all the companies that are "knowingly and intentionally" overcharging 340B hospitals and cutting 340B savings.
Protect Patients. Protect 340B.
Sponsored by 340B Health, the American Hospital Association, the American Society of Health-System Pharmacists, America's Essential Hospitals, the Association of American Medical Colleges, and the Children's Hospital Association
Direct media inquiries about this site to Jon Tilton (jon.tilton@340bhealth.org)